The next major release of the Eclipse Oxygen is coming up on June 28 and, it means the start of this year's Eclipse DemoCamps season. If you or your colleagues are considering a DemoCamp for 2017, we would like to help!
What's a DemoCamp?
You may be asking yourself what the heck a DemoCamp is and why should you care? Eclipse DemoCamps are typically 1-day or even evening events organized by Eclipse community members all over the world. The organizers bring together a set of expert speakers and attendees from their local community. In other words, it's a free event where you get to meet fellow Eclipsians and learn from each other in the form of demos/talks about Eclipse technology.
How do I get started?
This is the best part, wherever you are, you can organize an Eclipse DemoCamp! You choose the place, set the time, organize the venue (maybe a local pub or company office), provide a screen and projector, and arrange for refreshments.
To tell us that you are planning an Eclipse DemoCamp:
Send us an email on democamps@eclipse.org to ask about support, speaker ideas or possible goodies
Add it to the DemoCamp 2017 wiki page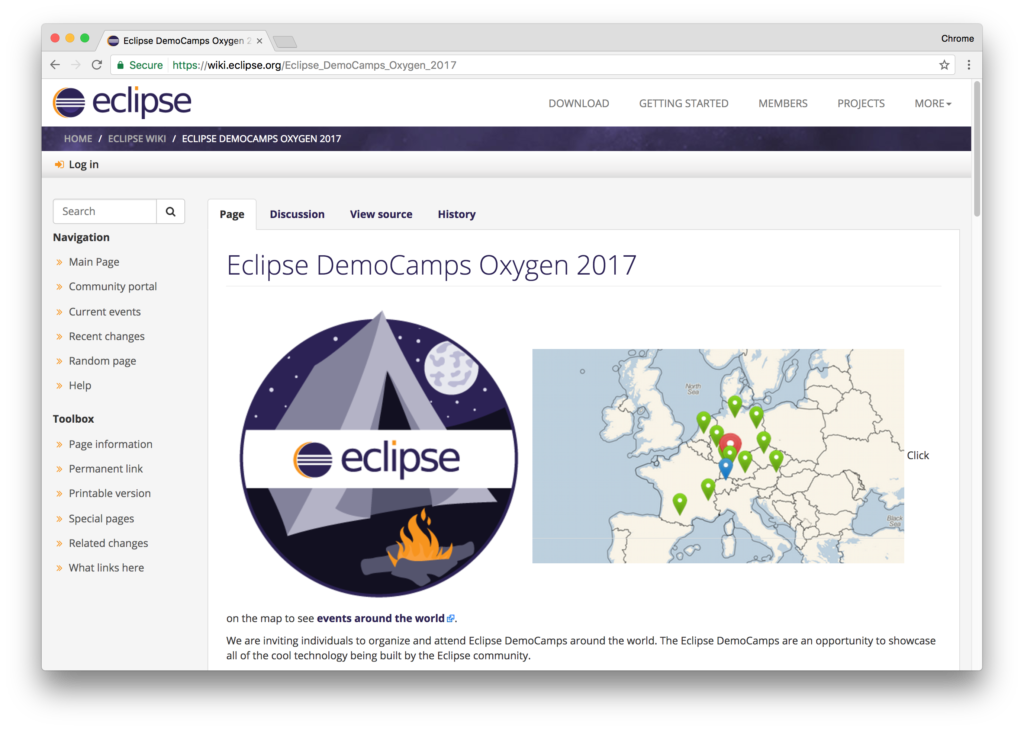 To add it, simply create a page with the program and venue information. And if you use another service like Meetup, just add a link to it from the Eclipse wiki. We will be pleased to list it on events.eclipse.org.
How does Eclipse Foundation help?
We, as the Eclipse Foundation, will participate to the cost of food, beverages, and room rental up to $300. We encourage organizers to find outside corporate sponsors to help organize their event. Sponsors usually contribute a certain amount, food or provide the space. Please acknowledge your sponsors on the DemoCamp & Hackathon wiki page and at the event itself.
We will help you promote it through the Eclipse Foundation's social media network and website. To read more about organizing an event, visit this page "Organise an Eclipse DemoCamp or Hackathon".
Eclipse Foundation staff also tries to attend the DemoCamps. This is obviously not always possible, but who knows… we could be coming to yours!
In 2016, DemoCamps took place in 19 different cities, from 10 different countries: Austria, Canada, China, Germany, Guatemala, Hungary, India, Norway, Poland, and Switzerland! We need you to reach new places in 2017 and that place could be near you!
Looking forward to hear from you 🙂